Want to learn to speed type e.g. type FAST without looking or thinking?
Type IT! Remote touch typing courses
Our remote touch typing courses work like this:
🌼Choose how quickly you want to learn. Fast track (2/3/4/6weeks) or steady pace (12 weeks).
🌼 Learn from home in your own time using our bespoke typing programme.
🌼 Follow the advice and guidance that your tutor sends you every week
🌼 Complete your assigned tasks each week.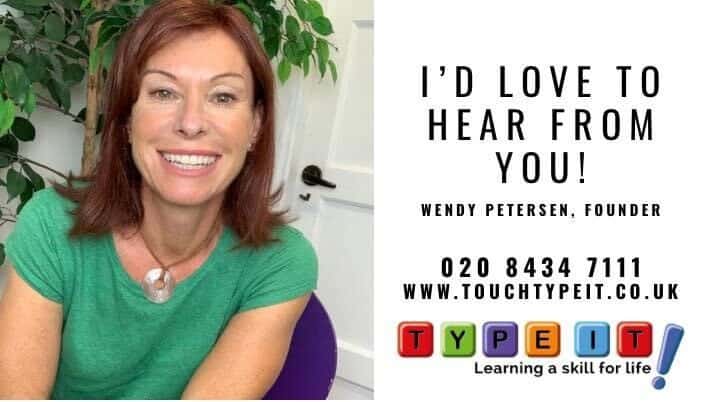 Why choose one of our remote courses?
✅ The course is individually designed for you because no two people are the same.
✅ Weekly feedback and guidance from a dedicated typing tutor (a real person, not a bot!).
✅ Our tutors will check your actual keystrokes so we can quickly see and fix any errors.
✅ Video and audio support throughout to make your typing super easy.
✅ Comprehensive starter pack so you know what you are doing from day 1.
✅ Helpline for information and support.
Recommended for children aged 10+ and adults too. The cost of our remote course is £195.00.
Need some additional help?
Want some additional help on Zoom? No problem! Our Remote Course Plus+ is perfect. 2 x Zoom + 10 remote lessons. £295.