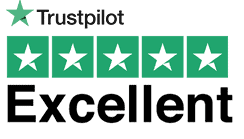 What our customers say about us
I started the Type IT! Remote Touch-Typing Course in August thinking I was only ever going to be able to type very slowly using two fingers but after completing the 6-week course I can now proudly say I am on the way to being able to touch type without even thinking about it and this is all thanks to this brilliant course!
The course layout is enjoyable and easy to navigate through as you complete levels your tutor unlocks for you where you are typing paragraphs, practicing letters and improving your speed through games.
The tutor support is really good as they outline work they want you to complete, give you tips and feedback personal to you in order to enhance your progress.
This new skill is very useful now as I complete work for college and it will help me immensely in the future.
Practice makes perfect!
Grace
Thank you for teaching me to touch type. I wanted to learn to touch type because I found the course really fun and easy to use on my own. My favourite lesson was the test and games. The tutor feedback I liked because I would know what to practice and she would give me tips to improve my typing each week.
Since I've been back at school my typing has really been helping with my ICT because we now typing stories on the computer. I now always finish before everyone else! My teacher said."Wow you can touch type" Because I'm faster than my goal for touch typing at the start was 20wpm and as the course went on I got faster and faster.
On my last test I got 63wpm and 99% accuracy! I can now type as fast as my Mummy. Thank you Wendy and Shantelle
From Cearney, age 9
When I first enquired about the course, Wendy was prompt and great with advice, this help me to be confident in choosing the course. We started with 1 lesson a week and Wendy would feedback with encouragement and areas to develop. As a tailored experience she then increase my lessons and even gave me some advance lessons to work on which help to keep me challenged and engaged.
Touch typing helps to build muscle memory and this was great for me to do during lockdown as it help to build routine while learning a valuable skill. I can't thank both Wendy and Tracy enough for the help and guidance on the course. If in any doubt about the course rest assured you will be amazed with your progress in a few weeks with engaging lessons and that personal feedback to you just will not get with a simple online course!
Warm regards,
Sabrina
Dear Type IT!,
I would like to say a big thank you for the 12 week course my son has just completed with you for the skills section of his silver DofE. He has really enjoyed the course and is now committed to improving the skills he has been taught by you and is determined to continue improving. The lesson format was great and he found that he had plenty of time each week to complete his lessons. You provided very clear and guided feedback which really helped him progress to the next level. I think he actually found the whole experience fun rather than a chore and now wants to continue with the extended access to your website as now his course has ended he has started logging on for both practice and pleasure. I could and already have recommended this course to anyone wanting to improve their typing skills which are now so important to all ages and so many aspects of our lives. You have managed to design a course that is both instructional and fun, I don't think Jack felt he was really learning at all but then after a few weeks realised just how much progress had been made and he can now type without looking at the keyboard! Once again, thank you.
Best wishes
Debbie
My 11-year-old son embarked on the touch-typing course and completed it within 6-7 weeks.
He felt that as he progresses through education and writes essays and dissertations in the future, touch typing would be a skill that serves him for life.
Although he found the course a little challenging at first, he soon got the hang of it. We valued the flexibility to do the course on the days and times that work for our schedule and the feedback from his tutor was excellent. He was able to complete the course from the comfort of his own home very successfully.
Mrs Moledina
Thanks so much Tracy for a very well set up online course. Cannot fault anything! Perfectly matched for teens giving them a life skill for now and the future. Archie has really enjoyed it and completely surprised us with his diligence.
Mrs Horne
My son took the touch typing course online, as part of his Duke of Edinburgh Bronze Award Scheme. He found some parts of the course challenging but always received excellent support from the TypeIT team who were really encouraging and kept him going. He is now a proficient touch typer which is a skill he'll be able to use for the rest of his life.
Mrs Marinker
My 9-year-old did the one week intensive TT course with Wendy and greatly enjoyed it. He was a complete novice at touch typing, although since he types regularly he had some engrained bad habits already. Wendy was a very patient teacher and he made great improvements over the week, especially once I covered the keyboard with coloured dots to hide the letters and tie them in with Wendy's colour coding. I know this will be a long process with him, because it is so much easier at the beginning to peck at the keyboard! But I think this course was a very useful introduction, presented in a friendly and encouraging way. He even enjoyed doing the 'homework', which is very unusual!
Mrs Menner, Q.C.
A kind and caring environment in which to learn the essential skill of touch typing.
Mrs Martins – Jenkins
'As part of my son's Bronze DofE, he did the Touch Typing crash course followed by 3 months of weekly typing practice at home which was set by the teachers at Type It for Kids. Great new skill to learn and super support from Wendy and Tracy, thanks so much.'
Jo Doheny
My son and his friend did a week's course followed by a tailor-made on-line course for three months. His typing, as shown by his assessment at the end of the 3 months, has improved no end and we are really pleased. I'd be happy to recommend Type IT to anyone doing their D of E as I think it's such a useful skill to have.
Karen Burke
Our son loved his Type It lessons, the software is fun and engaging, the teachers are encouraging and motivating and he achieved great results and can now touch type. I would absolutely recommend the course to other children who are keen to learn this life skill.' West Lodge School, Year 5 parent.
Mrs Haria
Many thanks to the TypeIt team for your patience, encouragement and lovely kind nature.
My son, aged 10, learnt to type for 2 years with the team, and loved every lesson, and has achieved so much in learning to touch type. The environment the children learn is in so calm and nurturing and the prizes keep them motivated throughout.
The TypeIt team provide great support for Dyslexic children – This is such an important skill for their ability to learn more effectively and efficiently.
Well done and thank you to the whole team.
Mrs Curson
Learning how to touch type has been so good for George. It has boosted his self esteem and he has acquired a skill he will use for the rest of his life. I have been recommending Type It to everyone.
Thank you for being so supportive and lovely to my extremely brilliant boy. George is due to sit his SATs soon and his teacher is not expecting him to get pass level score. Of course this has a impact on how he feels about himself so being around encouraging adults who believe in him has been fantastic and invaluable.
I have told George I want him to formally practice each week. We will definitely keep in touch and I will send him back if he needs to have some refresher lessons in years to come.
Thank you again.
Louise Williams
This is just a small note to tell you how much my daughter, Zoya appreciated touch typing course. She enjoyed the whole course thoroughly and made every possible effort to finish it on time.
Tracy, you been absolutely fantastic when it came to giving timely feedback and motivating Zoya to complete her course.
I would recommend this course to all parents who are looking to up-skill their child with touch typing which I believe, is a necessity in today's digital world.
Thanks a ton for making it easy for Zoya and imbibing the best practices of touch typing in her work.
Best wishes for the future to the 'Type It' team and I can't wait for my son to start the course!
Zoya's Mum
I just wanted to say that I chose Touch Typing as a skill for my Silver DofE.
Thank you so much for understanding! It was a pleasure being taught by you!
Zoya (student)
I thought this was a wonderful course and we were all amazed how quickly my son learnt to type and how much he enjoyed attending the course each week. He has told us that his friends are very impressed at how fast he is and it really helps to get your homework done faster! At the end of the course, he was very sad and asked if he could go back and do it all again! Many thanks,
Anna Bhalla
Type It! was ideal for my 11-year-old son who found the computer programme course easy to follow and fun to do. The personal weekly tutoring classes were also good at encouraging him to practice regularly throughout the course. As a complete beginner to touch-typing, he quickly learned and improved his typing speed and accuracy. He now completes his typed homework a lot quicker, and I feel he is well-prepared for secondary school.
Corinne
An educational psychologist recommended that my 11-year-old son should use a laptop at school as his difficulties with handwriting were holding him back. With a year to go to his 13+ exams, I knew he had to master the skill of touch typing as soon as possible. I was incredibly lucky to find Wendy at Type It. She is professional, understanding and kind. The guidance she gives is excellent and the software is user friendly.
My son loved the course and was typing over 30wpm at the end of 10 weeks. It has transformed his academic life; writing tasks which used to be tiring and difficult for him are now so much easier. He gets more work done with less effort. I can't thank Wendy enough or recommend the course more highly.
The "Type IT" course was so much fun and my son Josh looked forward to it every week. Although I can touch type, I decided to accompany my son and increased both my speed and my accuracy. We laughed and laughed as we challenged each other completing our homework. Just enough homework though about ten minutes a day so it never interfered with normal school homework. Who would believe that my 10 year old would finish with a great accuracy score and a speed-time of 39 words per minute?
This will not only set him up for secondary school in September but for University and beyond. Definitely one of the best things my husband and I have ever done for our son ………… and we are planning to go back in the summer for a refresher course, chances are, he will end up with a speed time faster than me.
Thank you Wendy for making me try that little bit harder each week and Emma thank you for being so encouraging and patient you were an absolute star in Josh's eyes=D>.
You are a great team and work so well together. See you in the summer…..
Our two boys completed the week-long intensive touch typing course last week.
Both were a little apprehensive as to what to expect. However, when I collected them at the end of the first session, they were both extremely happy and had really enjoyed the class. They said it was not boring or mundane. It was fun, interesting and they both felt they had learned quite a bit in the first two hours on the first day.
For the five days, they practised the homework that was set and did so without me asking them more than once to do it – which is a rarity!
How the classes are run and the kindness and patience of the teachers is clearly apparent as the boys were more than willing to get on and do the work that was set and their enthusiasm remained for the duration of the week. They have also practised every day since the course was completed.
This is a life-long skill that every child should have the opportunity to be taught. We recommend this course very much!
Mrs Bowen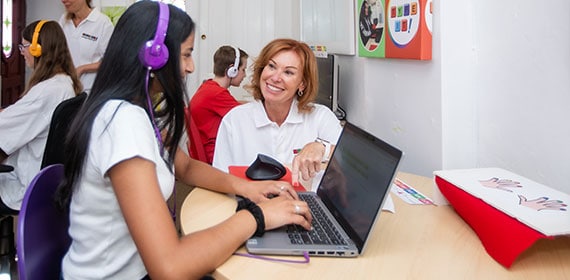 Tutors who care
Your child won't be learning on their own. Experienced
tutors will offer support and guidance throughout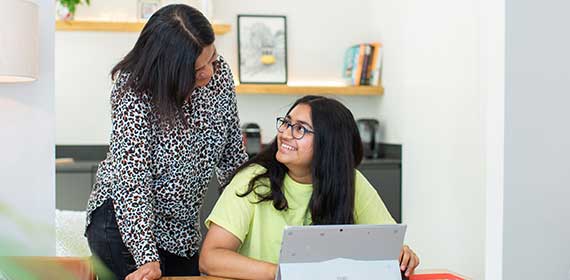 Customised lessons for your child
Your child's tutor will adapt the lessons individually for your child so they can progress and feel confident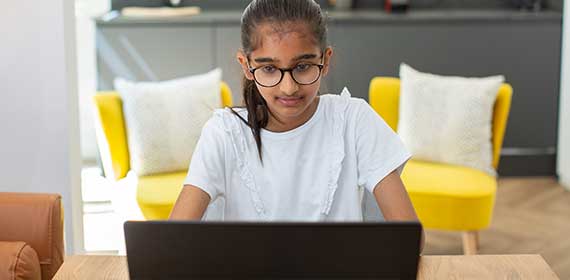 Flexible learning
With our remote courses, lessons can be completed on any day at any time. Our tutors will check your child's results remotely each week.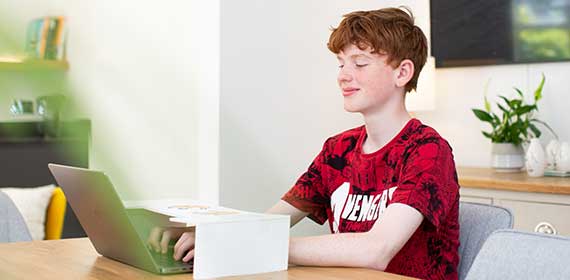 Fun & engaging
Our typing programme uses real words and spellings using UK English. Arcade-style games for fun learning
Frequently Asked Questions
My child has a learning difference e.g. dyslexia - can you help?
Yes absolutely! With other touch typing courses or programmes, it tends to be a one sized fits all approach. And this doesn't work for children with an SpLD, such as dyslexia. Other courses expect the student to learn too quickly which can overwhelm the working memory and before long your child has given up. It's important to select the right course for your child so that it is designed at the right level and pace for them. Learning needs to be gentle, and build up in smaller incremental steps. Our tutor supported courses will ensure that this happens.
We offer a few courses to help children with dyslexia and other learning differences. The choice will depend on your child, how they learn best and the time that they have to learn. We recommend that you give us a call to discuss your child's needs in more detail or you can book an assessment lesson with us so we can suggest the best course for your child.
Please visit our this page for an overview of all of our courses that are suitable for a children with a learning difference.
Which is the best touch typing course to choose?
The answer to this depends on so many factors. Some people prefer a more intensive style course, where lessons build quickly, so a fast track flexi-time home course is a good option or perhaps one of our week long intensive courses.
Other students may feel more comfortable learning more slowly, giving more time for practice. So the 10 Week Flexi-Time Home Course or 10 Week Flexi-Time Home Course Plus+ or Junior/Dyslexia Rolling course would be a good option.
Which is the easiest course to do?
If your child is younger or they have a specific learning difference such as dyslexia, our Junior Dyslexia Rolling Course is the easiest course to learn. Learning builds slowly with lots of repetition. You also have three lessons on Zoom with a tutor included in the fee, so they have lots of hands on help.
Which is the fastest course to do?
Our intensive face to face on Zoom courses are ideal for adults and children if you are in a hurry to learn. You can learn in just one week. Or if you prefer to learn from home, you can fast track the 10 week Flexi-Time Home course.
What is the best course for adults?
We would recommend the 10 Week Flexi-Time Home Course, because this allows you to practice for an hour a week which fits in well if you are working full time.
Which courses are term time?
Our centre based courses are term time only.
Which courses can my child do in the holidays?
Our intensive courses run in the holidays live on Zoom or you can fast track our 10 Week Flexi-Time Home Course – just say how many weeks you want to complete the course in on your booking form.
Which course gets the best results?
All of our courses get great results because they are all tutor supported. However, learning to touch type takes time, so you need to bear this in mind. If you looking to book an intensive course, you will learn to touch type the letters very quickly in just one week, but you will need to continue practicing once the course has finished to consolidate learning and improve on speed.
If you cannot find a course to suit you and would prefer a more bespoke option, we can organise this for you. Just give us a call.
How are you different from a free course?
The huge advantage of our courses compared to a free course is that all of our courses are tutor supported - even our flexi- time home touch typing courses. Every student will have their own friendly, experienced typing tutor assigned to them to guide them through the course from start to finish. This helps to keep accountable and stay on track, ensuring that they will never give up as well as enjoy learning this incredible life skill.
How long do your courses take to learn?
The great thing about our courses, is that it's your choice how fast or slow you wish to learn! You can learn in as little as one week with a double lesson each day, or up to 12 weeks, with a one hour lesson each week. You can even change your mind, and choose to fast track or slow down at any point. Just choose the course you wish to do and bespoke it by adding a message in the comments box on the booking form.
I'm not sure which course to book – can you help?
Yes we understand that there are a lot of options to choose from! The best thing to do is to give us a call so that we can chat through your exact requirements in more detail and find the course that is right for you or your child. We also offer assessment lessons for children, if you would like to know whether it's the right time to start learning to touch type, what course may be suitable for your child or to discuss bespoke courses in more detail.
My child is very busy – how are they going to fit this in each week?
We totally understand that young children and teenagers are busier than ever before. And that is why we have introduced our flexi-time home touch typing course. It means that your child can complete their one hour of practice spread across the week, never being tied to one place at one time. We advise practicing for just 10 minutes per day – which can easily fit into their busy schedules. Over a period of weeks, their skills will develop so that by the end of the course they will be touch typing accurately, confidently and with speed.
Your Type IT! Tutor is waiting for you! Let us help you get started!