It's an interesting question – can a font help children with dyslexia read more easily?
Comic sans is a font that you either love or hate. Certainly, it's not a favourite in the design world.
Is Comic Sans Font a Dyslexia Superpower?
Whatever your thoughts, Comic Sans is often seen as a font superpower because it's one of the very few fonts that has characters that are easy for those adults and children with dyslexia to decipher.
One common difficulty for people with dyslexia is distinguishing different letterforms that are similar e.g. b/d, p/q, n/u.
Only 2 characters in the comic sans font are repeated making it easier for people with dyslexia to distinguish the characters.
There are other dyslexia fonts such as Omoguru
Omoguru is another example of a font designed to reach as many dyslexics as possible and provide support for their reading difficulties.
Founder Vanja Andric says, "In our work and research we concluded similar about subsets of people with dyslexia who find a certain font beneficial.
From that conclusion and big differences in what each person needs tried to work out the solution. The approach we've taken is to look at the font as something dynamic, something that can be adaptable to each individual need. So we've created the OmoType font system.
People who are using it are letting us know their reading ability has improved significantly. We did two separate research on a small group of children and font showed as beneficial to them. They've read faster, made fewer mistakes and fixation times were shorter.
What are schools and businesses doing to make their printed materials inclusive?
Many schools and businesses have been keen to ensure accessibility for their staff. One OT Team said, "My OT team have converted all our worksheets, leaflets and email fonts to comic sans in our college. The students love it, no complains only compliments from them. It has taken staff a little longer to get their heads around it. Hoping that soon all staff in the school will use it."
More research is needed on dyslexia fonts
Gareth Ford Williams, Head of UX Design @ BBC, focusing on Accessibility and Universality, says:
"The problem with that is it's an oversimplification. It all depends on whether people are reading words by individual letter or word shape recognition, it's also down to groups single letters, there are also over 20 other features about the fonts that need consideration such as letter spacing.
Personally, I believe there is something good about comic sans, if you can get over the way it looks. But exactly what this is is the type of thing that needs to be understood rather than guessed at.
The same goes for the dyslexia fonts out there. They are all based on hypotheses with no reliable data or science to back them up. There is anecdote, but anecdotes aren't proof and they rarely explain anything."
If your child has dyslexia and would like to learn how touch type, we offer remote online courses. We would love to hear from you.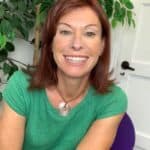 Contact Us