Touch typing has many benefits, including;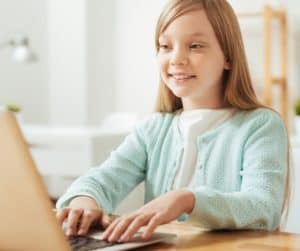 Speed – As children get older, there tends to be more homework.  My son is in year 7 and seems to have homework every night.   Being able to touch type is so useful as work can be completed more quickly without having to hunt and peck for the keys.   As children progress through school there can also be essay writing too.  An early start in touch typing can really help to get through that homework more quickly.
Accuracy – learning to touch type means that you can spot your mistakes and correct those errors easily as you are looking at the screen, not up and down at the keys.
Fight fatigue – if you learn to touch type, you don't have to think about doing two things at once, writing and hunting for keys!  It can be much quicker and easier to touch type rather than write.
If you aren't searching for the right key to press, you will not interrupt your train of thought and you can let those ideas flow!
Touch typing is good for your posture as you aren't moving your neck up and down from the screen to the keys.
Touch typing can help with repetitive strain issues as you are using all the keys and you are holding your wrists in a neutral position.
Children with dyslexia and dyspraxia or those who struggle with spelling can memorise spellings more easily when touch typing.   Touch typing relies on muscle memory like playing an instrument or learning to ride a bike.  By remembering the pattern of the keys and letters and replicating them it can make spellings so much easier.
It is so much easier and neater to edit a document on a computer, erasing and adding new words and sentences without a lot of crossing out and squeezing in!
We have a great opportunity for your child to learn touch typing fast with our remote learn from home course. It's a course with a difference; your very own designated typing tutor waiting in the wings to help you learn this amazing life skill.
Find out more about our courses at https://www.touchtypeit.co.uk/book-now/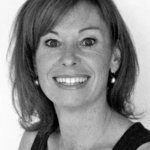 Contact Us